Installation of the database application SAVE / SAFE and the publication of the same title as a spatial setting in a recently opened business building as part of the Soho Festival in Ottakring 2003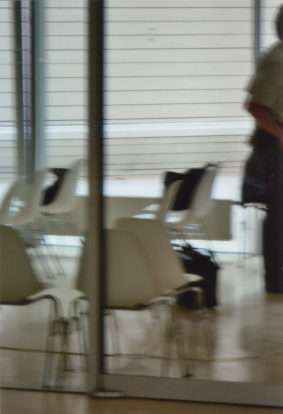 idea / concept | spatial setting | photography alexandra reill
production soho in ottakring | vienna 2004
In the all-white seminar room on the ground floor of the newly built business hub at the corner of Grundsteingasse / Hernalser Gürtel in 1160 Vienna, the chairs, which were usually arranged around seminar tables, were aligned with a view of an empty, white wall, onto which nothing was projected. Several copies of the publication were on the tables and could be read like in a library. A stationary computer unit with a monitor was installed on the place usually designated for the lecturers, on which visitors could view and use the database application.
One of the side walls of the seminar room consisted of large sliding glass doors that lead into a courtyard with postmodern design, the walls of which are planked with wood and along them long wooden benches extend and invite you to linger. In a loose arrangement, a number of the white office chairs, also of postmodern design, were set up individually and loosely.
Photographic snapshots were taken daily throughout the festival showing the postmodern office chairs positioning themselves towards and away from each other. It seems like people are sitting on these chairs – and yet they are not sitting there. People who relate to each other or not, relate away from each other or not … Ultimately, the experimental film white chairs emerged from this multitude of situatiative constellations that so naturally fit into the SAVE / SAFE installation.
SAVE / SAFE. A Business Setting supported by
our thxs go to
— soho in ottakring
SAVE / SAFE. A Business Setting installed at
— soho in ottakring / vie / a / 03