White on white is the theme, shade and doubled manifestation ask for the meaning of space between physical matters, ask for the character of emptiness, the character of fullness.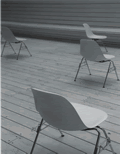 experiental short film | DV PAL 4:3 | 00:08:31:–
concept | photos | imagery | editing alexandra reill
production kanonmedia | vienna 2003 / 2005

Photographic captures of moments show office chairs positioning themselves towards each other on post-modern ground. It seems as if people sit on these chairs – but they do not sit there. People in relation to each other or without relation, in distance to each other or without distance to each other ….
Originally, visitors of the installation SAVE / SAFE developed by Alexandra Reill in the framework of the festival Soho in Ottakring 2003 created these moments of visual impressions on abundance and richness, emptiness and isolation, tenderness and encounter, barriers and distance, attention and perception. People feeling comfortable [or caught?] in post-modern ambience, people whose tracks of communication can be felt still ….
Using the stop trick-method, the film is composed of single photos producing a scenic process of ever changing constellations of chairs towards each other, with each other, apart from each other, constellations representing a steady flow of time and a rhythm of individual forms and manifestations of communication in so-called modern worlds.

white chairs collection entries
— stadtbibliothek graz | video edition austria release 02. 4. sonic patterns, compulsion und negotiation area / graz / a / 09
— sixpack | video edition austria release 02. 4. sonic patterns, compulsion und negotiation area / graz / a / 09
— medienwerkstatt wien | video edition austria release 02. 4. sonic patterns, compulsion und negotiation area / vie / a / 09
— rhizome artbase selection / nyc / us / 07
white chairs screenings / performances at
— espresso / vie / a / 14
— art & science / vie / a / 10
— video edition austria release 02 | diagonale / graz / a / 09
— video edition austria release 02 | mak nite© | mak – museum of applied arts / vie / a / 09
— as work in progress: netznetz – festival der netzkulturen / künstlerhaus wien / vie / a / 04
white chairs | video edition austria release 02 featured by
— feest / int / 14
— actioner.de / d / 14
— artmagazine / vie / a / 14
— artmagazine / vie / a / 14
— falter / vie / a / 14
— pinvents / vie / a / 14
— estherartnewsletter / vie / a / 14
— safari / vie / a / 14
— art visuals & poetry / vie / a / 14
— allevents / gujarat / ind / 14
— furtherfield / lon / uk / 14
— netbehaviour / lon / uk / 14
— artsuche / d / 11
— okto tv / vie / a 10
— net art / int / 10
— closer to the sun / int / 10
— esel.kulturkalender / vie / a / 10
— social impact / vie / a / 09
— medienwerkstatt wien / vie / a / 09
— medienwerkstatt wien | video edition austria release 02. 4. sonic patterns. catalogue / vie / a / 09
— stadtbibliothek graz / graz / a / 09
— celluloid / vie / a / 09
— springerin / vie / a / 09
— profil / vie / a / 09
— der standard / vie / a / 09
— mak – museum of applied arts / vie / a / 09
— apomat / vie / a / 09
— classic.rhizome / nyc / us / 07
— rhizome artbase / nyc / us / 07
— fridayarts.net / i / 07
— net art / d / 07