Series of 64 photographic self-portraits with a bag in motion, taken at random, forming a chronological series of abstracts …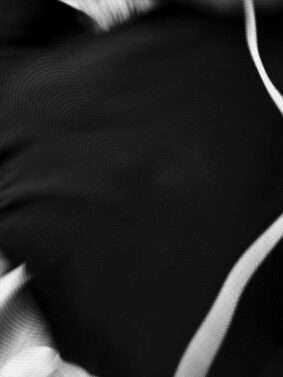 alexandra reill, photo series, 2021 / 2022

64 photos
4032 x 3024 px [1c, 72 dpi] digital
or
34,14 x 25,60 cm [1c, 300 dpi] digital photo print, glossy on alu-dibond

production kanonmedia 2021 / 2022


The photographs were taken in 2021, as part of a photographic project dedicated to the effects of the circumstances caused by Covid-19 on the artist in the period between fall 2019 and spring 2022, in the form of a continuous chronological self-documentation. As part of this work, all self-portraits included in the project underwent the same procedure of image editing.
The images included in SP19-22-fades crystallized as a distinct series of photographs. Their visual language is characterized by abstract and simultaneously textured fields. By themselves, the photographs from SP19-22-fades generate a rhythmic line from a self-observing and abstracting process manifesting into a translucency of the body, of materiae itself; developing on its own, beyond any intention of the artist Alexandra Reill; a translucency reminiscenting the aesthetics and approaches of early silent film.

Mounting options
The 64 photographies form a wall installation.
In their digital format, the photographies are mounted in the combination presented above, each as a static full-size image shown in a black flat screen, with a diagonal size of the monitor of approx. 21″. The distances between the screens are of the same dimensionality / ratio as in the presentation above.
As an analog wall installation, the photo series is hung in the same constellation of the photos, in form of glossy 1c prints on alu-dibond.