Partivipative performance with a card game, consisting of the pages of the pocket calendar used by Alexandra Reill in 2015, handwritten on both sides
7,40 x 10,50 cm
text / scribbles on paper
texts alexandra reill / quoted authors
editing / scribbles alexandra reill
production kanonmedia | vienna 2015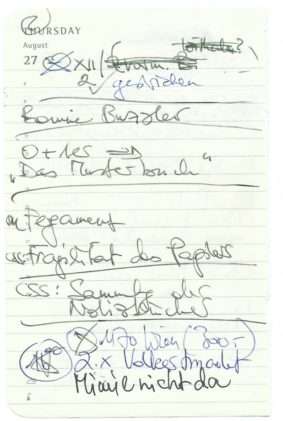 The calendar was broken down into individual sheets. At the beginning of the game, five of these are given to the players in a mixed order. The players have the free choice which side of the sheet they want use in order to pair them with the sheet lying on top of the staple of played out sheets – in regard to content-related or solely visual correspondence. Players can add their own entries on pages with empty space for labelling before they take another hand. As long as there is no stitch, the sheets stack. In a discourse, the players determine in a consensus whether a stack of sheets is considered to be stuck by matching the upper side of the sheet newly added to the stack with the upper side of the sheet lying on the top of the stack. The pair of sheets combined in this way, with all the sheets stacked underneath, goes to the person who has stung, who sets these sheets aside; they are no longer available in the game round. Players having no sheets any more may each take three sheets that have not yet been distributed. If no more sheets can be lifted, sheetless players can continue to participate in the discourse. If all cards are played once, the game is over. There is nothing to be won.
The original sheets form exhibition objects; digital prints are used for the game, which may be provided by players with new inserts, created by using the provided pens of the kind used in the originals. Sheets with such additions are included in the original series of analogue sheets; in the form of additional digital prints they are available in subsequent events. In the course of time, the number of sheets contained in the exhibition series and in the game increases until all sheets are completely labelled.
The game idea was developed by Alexandra Reill in early summer 2015 as part of the performative think tank series Salon Volkertmarkt where it was tested in its initial raw layout of structure. In this context, one of the original sheets went to Peter Koger.
all rights reserved
Kalenderjahrspiel 2015 staged | exhibited at
— in the framework of umkreisungen / depot / vie / a / 15
— in the framework of salon volkertmarkt / volkertmarkt / vie / a / 15