Photo series of five variations of a self-portrait focusing on shade, in its multiplication serving as a reflective approach to the development of the personal self …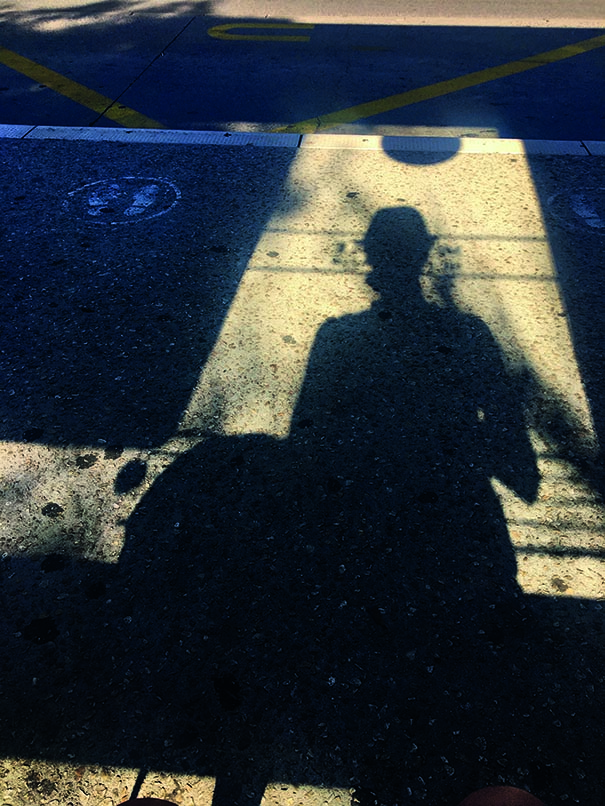 alexandra reill, photo series, 2021 / 2022
10 photos
4032 x 3024 px [4c / 1c, 72 dpi] digital
or
34,14 x 25,60 cm [4c / 1c, 300 dpi] digital print, mat on paper, framed behind glass in rounded, glossy black lacquered wooden frames of about two cm width
production kanonmedia 2021 / 2022


The original photo was taken in 2021, in the course of a photographic self-portrait series covering the period between fall 2019 and spring 2022 in the form of a continuous, chronological self-documentation. As part of this work, all of the images included in the project were subjected to the same series of image edits.
The imagery contained in the series SP19-22-personal shade crystallized as a distinct series of photographs, whose subject is the shadow of the artist's body being reflected as a personal shade.
Mounting options
In their digital format, the images are mounted in two horizontal rows, as shown above, to together form a static full screen image that is displayed on a flat black monitor with a screen diagonal of at least 21″. The spacing between the images is of the same ratio as in the above arrangement.
As an analog wall installation, the photo series is hung in two horizontal rows, following the chronological order of the image titles from left to right; in the form of mat 4c / 1c digital prints on white, smooth-coated paper, framed behind glass in curved, glossy black lacquered wooden frames about two cm wide.