Two-hour video loop of self-portraits, shot within the spatial art installation in the form of a mirror cabinet, in the eyes of Alexandra Reill reflecting the effects of spotlight glamour and stage life on stage protagonists; created by Bernard et Gérard Taride and exhibited at the Château-Musée Grimaldi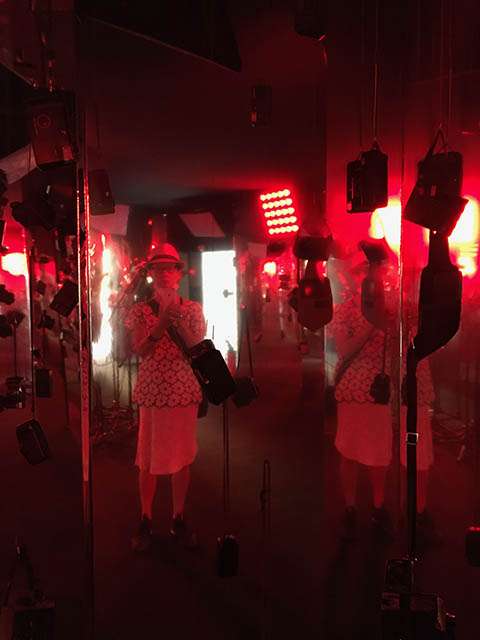 experiental video loop, 2021 / 2022
full hd 16:9 | single loop duration 02:00:00:00
concept | imagery | layout in pre-formatted apple screen saver, style "old-fashioned" alexandra reill
production kanonmedia | cagnes-sur-mer | vienna 2021 / 2022
watch a sample of the video online
http://kanonmedia.com/wp-content/uploads/videos/2021_2022_sp19-22-im_spiegelkabinett_web_trailer_5_min.mov

During her visit to the Château-Musée Grimaldi in Cagnes-sur-Mer, France, the artist is drawn into a room, mainly in deep red light, which houses an art installation that packs the typical infrastructure of a concert stage into a mirror cabinet, in which the exhibition visitor finds her-/ himself reflected dozens of times.
The photos taken also captivate Alexandra Reill and in the course of the process of photo editing further continue to be under the spell. But it was only during the production of the video loop on the basis of the screen saver layout offered by Apple, which is called "old-fashioned" and which, despite the artist's general scepticism about the use of predefined layouts and the method of screen saving for film production, that she realized the real meaning of the self-portraits taken in a mirror cabinet reflecting the effects of stage life on protagonists, in the given case musicians, for herself:
The photographies are reminiscences of those times when the artist was active in theater and film, or staged performances and dramaturgically shaped stagings; of a beloved activity, now only a beloved memory, accompanied by a pain caused by the inaccessibility of production possibilities and a no longer-be-seen as – at the latest since the abrupt bursting-in of the measures caused by Covid-19 – any production in the performing arts found an end presenting itself as final.

Mounting options
SP19-22-In the mirror cabinet, is mounted on a black flat screen monitor with a screen diagonal of approx. 21′′, which hangs wirelessly at eye level on a white wall, looping in full screen mode.