Co-publishing of the brochure on the EU-project building international artists' networks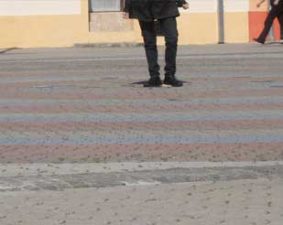 text | editing | photos | graphic design | layout maya kalogera
publishing cdsva in co-production with kanonmedia / line initiative and movement / nano gallery | zagreb 2010
The inspiration for this project developed by CDSVA / Zagreb came from the place Ludbreg: a small, in wider public not so well known place in Croatia, yet being one of the oldest settlements in Croatia. According to ancient legend from the Roman times, it was in Ludbreg that the circles of the Earth were thought up and drawn. All the larger metropolises are said to be found on the circumferences of the circles, and it is said that in Ludbreg the four elements – earth, water, fire and air – meet. In Croatia it is known as "The Centre of the World".
The small Podravina Township evolved on the intersection of trade roads leading from East to West, and from South to North, all crossing the river Bednja. Illirians and Kelts passed these roads, as well as Tatars and Turks. On this place, prehistoric augurs predicted the future, Slavic sages brought their offerings, Roman patricians enjoyed the beauties of nature. It was the importance of these ancient roads spreaded through this region since the first millenium BC., which brought old Romans to settle here.
Starting from these legends, circles of communication were drawn through Europe, installing an international network of artists to strengthen inter-local relationships in a global age, with the theme of reflecting the influences of globality on local creativity. My Center of the World is an international communication project on the effects of new global movements on artists' approaches to creativity.
My Center of the World supported by
— european cultural foundation
— ministry of science, culture and sports of the republic of croatia
— nano gallery
My Center of the World distributed for free by
— lulu / int
— cdsva / zagreb / hr